A 10-day public exhibition dissecting the role of art in the publicity of AI at the Society for Arts and Technology in Tiohtià:ke/Montréal.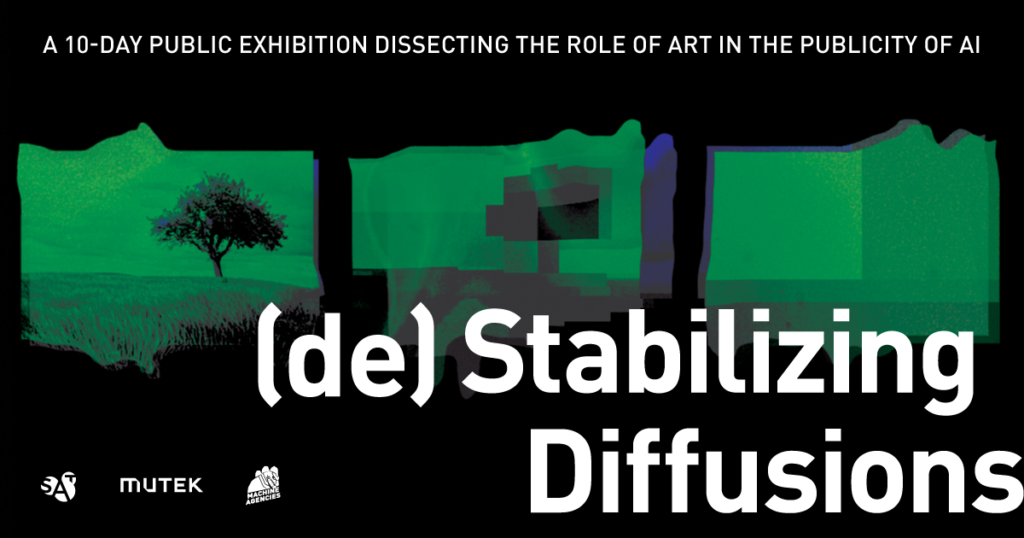 Dates:
15 – 24 May 2023
Daily 9:00 – 17:00 (Closed on the weekend)
Free Entry
Location:
Café SAT (Society for Arts and Technology)
Finissage
May 23
18:00 – 22:00
19:00 ~ Artist Talk
w/ Isabella Salas, Tim Murray-Browne, Craig Fahner & Harley Smart – Anteism Books
20:00 ~ Performance by Tim Murray-Browne
DJ set by Je suis TBA
Description
The arrival of general purpose AI (GPAI) tools present a critical moment in AI's publicity and the role of art within. On one hand, generative AI systems perpetuate the hyped genrefication and commodification of creative AI outputs as art, which troubles our understanding of what art is and more importantly how art is valued by the art industrial complex. On the other hand, the extractive nature of these systems raise fundamental questions surrounding questions of copyright and intellectual property.
The exhibition (de)Stabilizing Diffusions aims to defy the hype around generative AI tools by reshifting the focus on investigating these systems in and through artistic practice. It is then not the outputs that are of interest but rather the critical practices that artists employ when working with AI. Over the course of 10-days the exhibition showcases in-depth documentation of the creative strategies artists use to critically dissect generative AI systems. By doing so (de)Stabilizing Diffusions not only gives insights into how these systems work but more importantly aims at inspiring the adoption of similar strategies by engaged publics.
The exhibition is an extension of the two-day critical AI symposium (un)Stable Diffusions, which takes place on May 23 and 24 at Concordia University's Milieux Institute. As a collaborative effort between the Machine Agencies working group at Concordia University's Milieux Institute, the MUTEK festival of digital creativity and the Society for Arts and Technology the exhibition presents a continued effort into breaking down boundaries between artistic practice, academic research, and public engagement.
Ali M. Demirel – Iwakura Artefacts
Rooted in Shintoist mythology, Iwakura refers to the spirits that inhabit sacred rock formations found all over Japan. Originally conceived as an audiovisual performance for the full-dome, Iwakura Artefacts uncovers the creative strategies that visual artist Ali M. Demirel employed to critically incorporate AI in his process. Ranging from super resolution and image stitching to artificial slow motion, the presented prints showcase the challenges, opportunities, and happy accidents AI brings to the artistic process.
Debashis Sinha – The Lion and the Bull: a methodology of embracing failure (i, ii, iii)
Sinha offers 3 short audio papers detailing his process of working with machine learning in sound production. Rather than relying on the traditional imperatives of classification and reproduction in machine learning, Sinha leans into a process of refusal and the embracing of failure, both as a method of sound generation and as a way to expose the many shortcomings of neural networks in replicating human (and non-human) experiences and systems of knowledge. In these essays, Sinha focuses on his work "The Lion and The Bull" from his recent release "Adeva_v000_04", taking the listener through his composition process, the sonic material, and the ideas that permeate his work with machine learning systems and their misfires.
Evan Light, Craig Fahner, Ellouise McGeachie & Quinn MacNeil – Enter the Ring: Facing Amazon's Ring of Surveillance
Enter the Ring: Facing Amazon's Ring of Surveillance is an immersive art installation wherein gallery-goers are invited to experience facial recognition in real-time with the use of our custom-built facial recognition visualizer. Accompanying the facial recognition experience is a 12-minute video that analyses the Amazon Ring, debunking innocuous advertising campaigns and explaining precisely what Ring owners have gotten themselves into. A six-page, tri-fold gallery guide provides users with further information about Amazon Ring and facial recognition more generally.
Isabella Salas & Hexorcismos – Transfiguraciones
Isabella Salas and Hexorcismos uncover the data sets of Prehispanic masks from Mesoamerica, which underlie their audiovisual performance, Transfiguraciones. Employing decolonial approaches to working with AI, the original performance revolves around the idea of transfiguration, approaching the Neural Network as an alchemical technology for distillation of styles. "Transfiguration" treats the GAN (Generative Adversarial Network) as a kind of homunculus able to morph one design aesthetic into another, while preserving the input's cadence and long-form structure.
Tim Murray-Browne – Agency of chaos, unmoved
An open-ended performance with real-time AI-generated audio. The computer music pioneer Joel Chadabe described performing with a non-deterministic system as like sailing a boat through stormy seas. A storm has its own agency of chaos, unmoved by whatever intentions I may have in harnessing its forces. In moments of desperation, it's tempting to think that the storm is aware of our plight as it ushers or torments us.
Tim Murray-Browne is a computational artist, engineer and researcher, and resident artist with Machine Agencies at Concordia University. His practice connects dance, creative coding, and generative audio-visuals to unearth the parts of human wildness left behind by technology. His current work explores new forms of real-time human-AI interaction rooted in human movement and embodied consciousness.
Anteism Books – Exploring the Intersection of Art, Books, and AI
Anteism Books is delighted to present a curated selection of books that delve into the captivating intersection of art, books, and artificial intelligence. Committed to embracing cutting-edge approaches in art and publishing, Anteism has led an exploration into how machine intelligence may revolutionize the ways we write and read books.
The featured projects encompass a collaborative poetry series born from human-machine cooperation, a mesmerizing collection of neural network-generated portraits, and an environmentally conscious reinterpretation of landscape paintings using data aggregation technologies.
The collection offers non-technical introductions to emerging AI techniques and their potential applications in artistic practices. These resources encourage thoughtful discussions about the role of art in the age of machine intelligence.
Anteism Publisher Harley Smart will also showcase a series of artist books which demonstrate the integration of generative AI and augmented reality in contemporary book arts practices. Created within Concordia's Masters of Design and Computation Arts program, these works exemplify the numerous opportunities AI presents in shaping the future of independent publishing and artistic expression.
Partners:
Credits:
Curated by: Maurice Jones
Conceived by: Fenwick McKelvey
Design: Natalia Balska
Technical Assistance: Julien Lanthier
Machine Agencies: Robert Marinov, Nick Gertler
Image Credits: Rens Dimmendaal & Johann Siemens / Better Images of AI / Decision Tree reversed / CC-BY 4.0 / Remixed by Natalia Balska
This event draws on research supported by the Social Sciences and Humanities Research Council.